Walter (Wladyslaw) C. Izbicki (son of Bolesław Dominik Izbicki and Wiktoria Kruczyńska) and Wanda B. Ladago (daughter of Louis Ladago and Adela Walukiewicz) were married on 21 September 1935 in Worcester, Worcester County, Massachusetts, USA.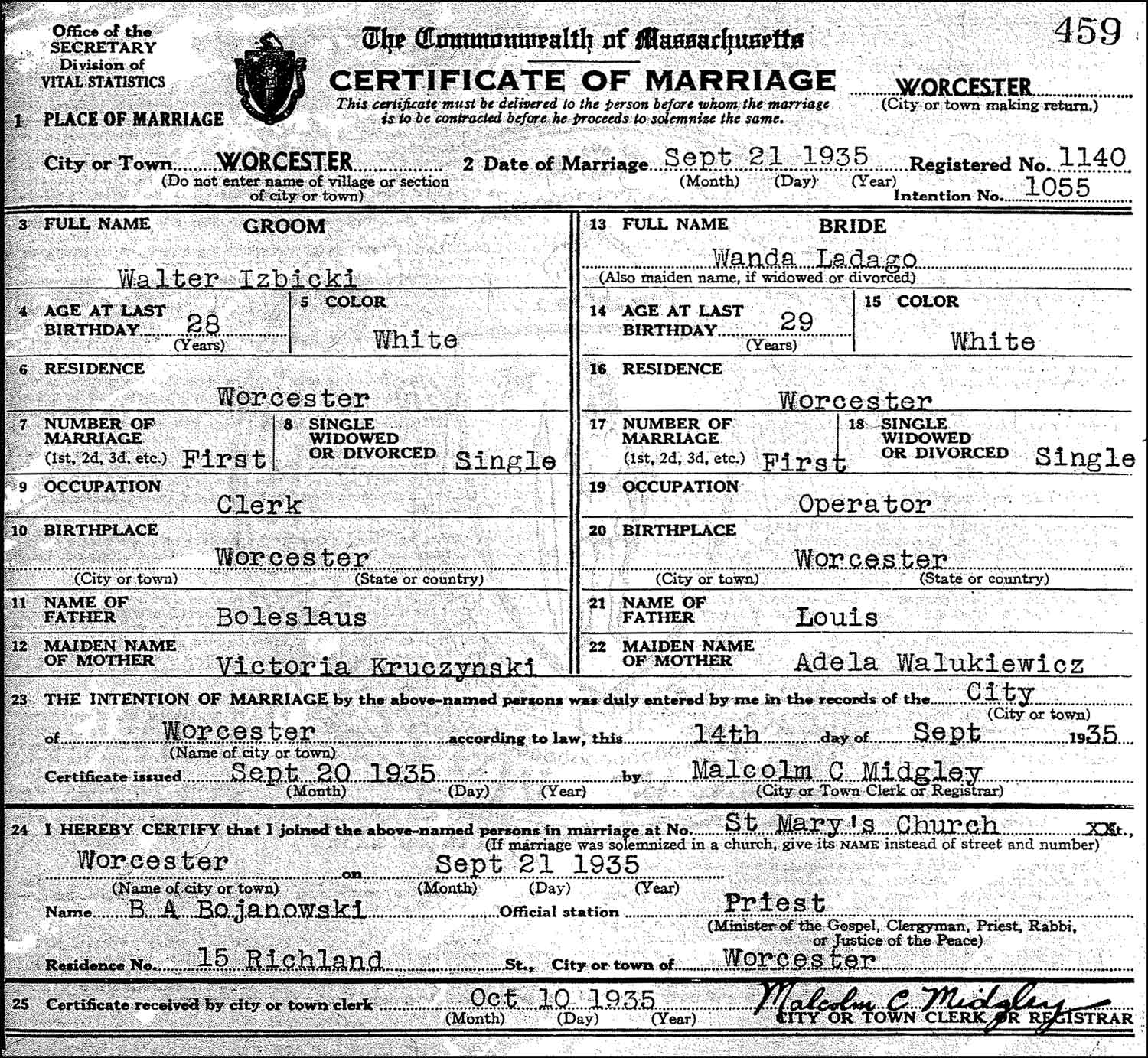 The Marriage Record of Walter C. Izbicki and Wanda B. Ladago – 1935
SOURCE:  Worcester, Massachusetts, Marriage Records 1935, vol. 81: 459, Walter Izbicki and Wanda Ladago, Massachusetts Registry of Vital Records and Statistics, Dorchester.
Click on the image above to enlarge it.  Click on the link for a PDF copy of the marriage record of Walter C. Izbicki and Wanda B. Ladago.  The record states:
The Commonwealth of Massachusetts
CERTIFICATE OF MARRIAGE
This certificate must be delivered to the person before whom the marriage
is to be contracted before he proceeds to solemnize the same.
Office of the SECRETARY Division of VITAL STATISTICS
459
(City or town making return.) WORCESTER
Registered No. 1140
Intention No. 1055
1  PLACE OF MARRIAGE  City or Town WORCESTER
(Do not enter name of village or section of city or town)
2  Date of Marriage Sept 21 1935
(Month) (Day) (Year)
GROOM
3  FULL NAME  Walter Izbicki
4  AGE AT LAST BIRTHDAY  28
(Years)
5  COLOR  White
6  RESIDENCE  Worcester
7  NUMBER OF MARRIAGE  First
(1st, 2d, 3d, etc.)
8  SINGLE WIDOWED OR DIVORCED  Single
9  OCCUPATION  Clerk
10  BIRTHPLACE  Worcester
(City or town) (State or country)
11  NAME OF FATHER  Boleslaus
12  MAIDEN NAME OF MOTHER  Victoria Kruczynski
BRIDE
13  FULL NAME  Wanda Ladago
(Also maiden name, if widowed or divorced)
14  AGE AT LAST BIRTHDAY  29
(Years)
15  COLOR  White
16  RESIDENCE  Worcester
17  NUMBER OF MARRIAGE  First
(1st, 2d, 3d, etc.)
18  SINGLE WIDOWED OR DIVORCED  Single
19  OCCUPATION  Operator
20  BIRTHPLACE  Worcester
(City or town) (State or country)
21  NAME OF FATHER  Louis
22  MAIDEN NAME OF MOTHER  Adela Walukiewicz
23  THE INTENTION OF MARRIAGE by the above-named persons was duly entered by me in the records of the City (City or town) of Worcester (Name of city or town) according to law, this 14th day of Sept 1935
Certificate issued Sept 20 1935 (Month) (Day) (Year) by Malcolm C Midgley (City or Town Clerk or Registrar)
24  I HEREBY CERTIFY that I joined the above-named persons in marriage at No. St Mary's Church St., (If marriage was solemnized in a church, give its NAME instead of street and number) Worcester (name of city or town) on Sept 21 1935 (Month) (Day) (Year)
Name B A Bojanowski Official station Priest (Minister of the Gospel, Clergyman, Priest, Rabbi, or Justice of the Peace)
Residence No. 15 Richland St., City or town of Worcester
25  Certificate received by city or town clerk Oct 10 1935 (Month) (Day) (Year) [signed] Malcolm C Midgley CITY OR TOWN CLERK OR REGISTRAR
Copyright © 2011 by Stephen J. Danko