Marie Domitille Gamache was born on 07 Jun 1846 and died on 10 Jun 1846, when she was just a few days old. Her death and burial are recorded as entry S45, a couple of entries below her birth and baptismal record.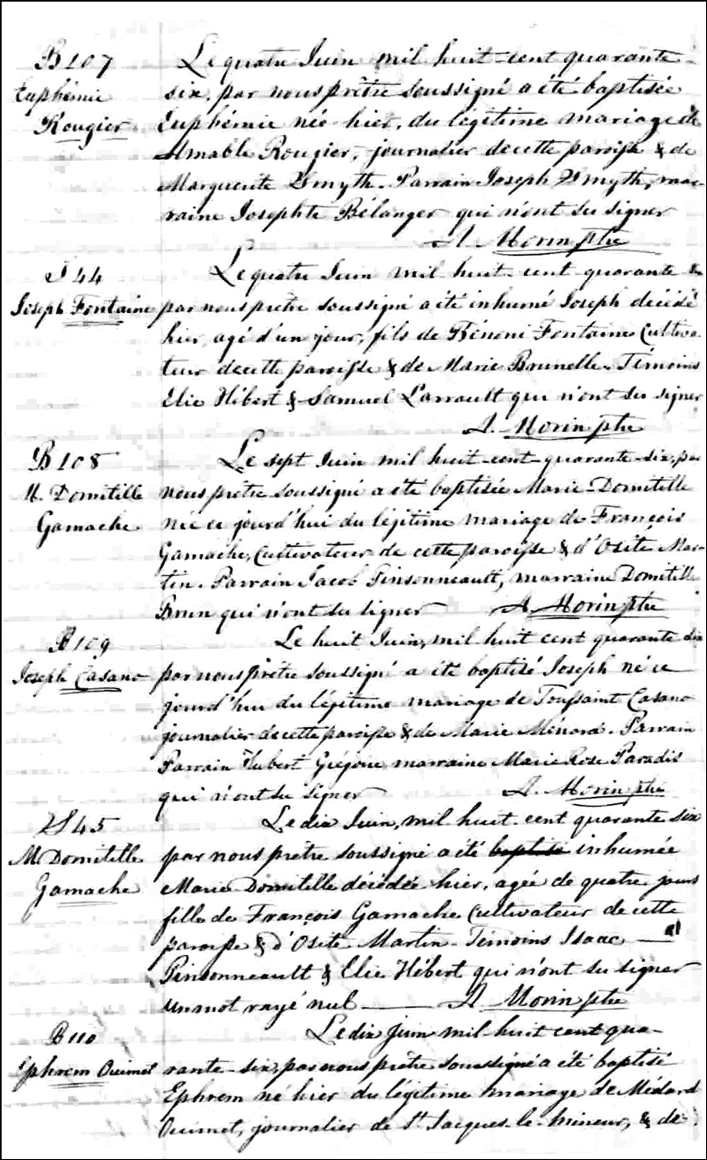 The Death and Burial Record of Marie Domitille Gamache -1846
SOURCE: Gabriel Drouin, comp. Drouin Collection. Montréal, Québec, Canada: Institut Généalogique Drouin. Death and Burial Record of Marie Domitille Gamache, Parish of St. Cyprien, Napierville, Napierville Co., Lower Canada, 1846. Back of Folio 18, S.45.
Click on the link for a PDF copy of the Death and Burial Record of Marie Domitille Gamache -1846. Translated from the French, the record states:
S45 [Burial #45]
M. Domitille
Gamache

On the tenth of June, one thousand eight hundred forty-six, by us, the undersigned priest, was baptized buried Marie, who died yesterday at the age of four days, the daughter of François Gamache, farmer of this parish, and Osite Martin. Witnesses were Isaac __ Pinsonneault and Elie Hébert who did not know how to sign
One word stuck out __

[signed] A Morin, Priest
This record can be found as image 19 of 46 in the Québec Vital Records (Drouin Collection), 1621-1967 in Napierville St-Cyprien for the year 1846 on Ancestry.com. The record is found on the back of folio 18. 
The burial record states that Marie Domitille was four days old, so the priest apparently counted both the day she was born and the day she died when he calculated this number.
In the death and burial record, the priest inadvertently wrote baptized instead of buried. He struck out the word baptized and indicated at the end of the record that one word was stuck out.