While in Poland, my companions and I stayed in Łańcut, a Polish village with a rich history not far from the villages of my ancestors.  We had reservations at the hotel connected to the Łańcut castle.  When we arrived at the gate to the castle, a guard told us that there had been a fire and that our reservations had been transferred to another hotel nearby.  We eventually were able to tour the castle and were awed by the beauty and splendor of the castle and the grounds.  In contrast to my preconceived notion that a castle was a drafty, stone structure with turrets, minarets, and drawbridges, the Łańcut castle was more like an enormous, opulently beautiful mansion equipped with every comfort.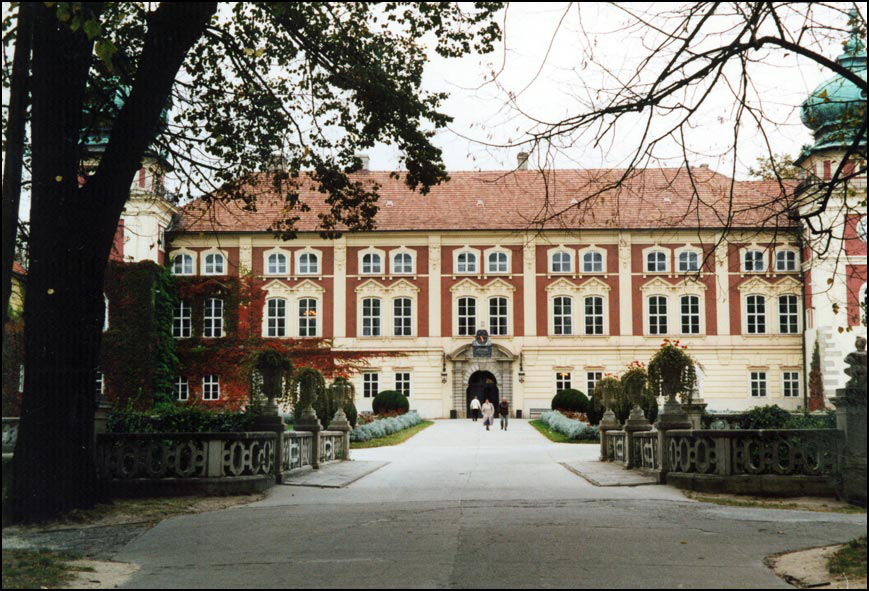 The Castle in Łańcut
My ancestors lived in a village south of Łańcut, but I doubt if they ever visited Łańcut.  After my trip, I hired a professional genealogist to visit the church in Dubiecko, Poland to find the church records of my ancestors.  By far, most of the records he delivered were birth and baptismal records.  He also found some marriage records, but of the fifty-one records he delivered to me, only three were death records: one for my great great grandfather, Paweł Dańko, one for my great great great grandfather, Adalbert Dańko, and one for Józef Dańko, who may have been my great great great great grandfather.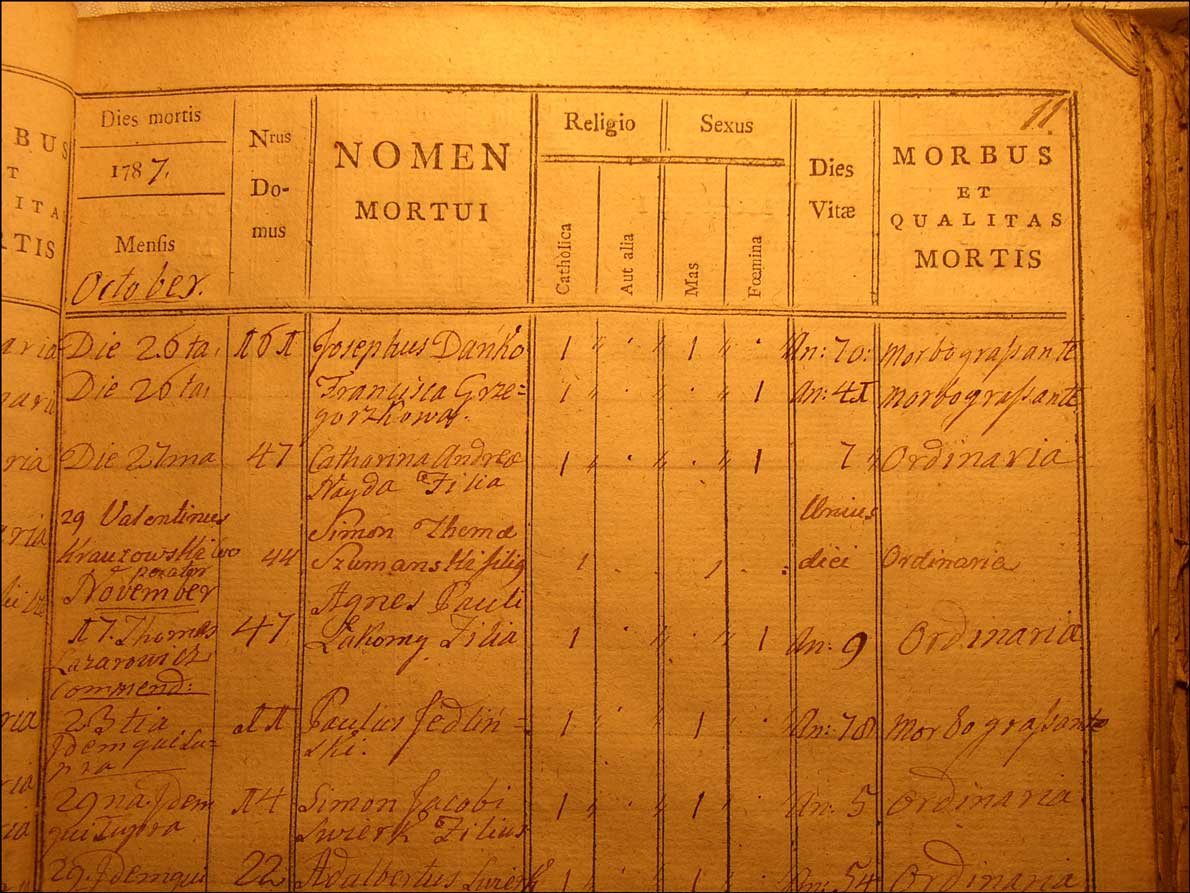 The reason I am equivocating here is that the death record for Józef contains very little information.  However, Józef's death record does show that he was living in house number 161 when he died, and other records report that my third great grandfather, Adalbert Dańko, lived in house number 161 after Józef died.  Other known relatives lived in house numbers 158 and 160.  This is weak evidence that Józef was my fourth great grandfather, but he was probably related to my ancestors in some way.
The death record contains the following information:
Dies mortis – Day of death
Mensis – Month
Nrus Domus – House number
Nomen mortui – Name of the deceased
Religio (Catholica, Aut alia) – Religion (Catholic, Other)
Sexus (Mas, Foemina) – Sex (Male, Female)
Dies Vitae – Days of Life [Age at time of death]
Morbus et Qualitas Mortis – Disease and Cause of Death
The Death and Burial Record of Józef Danko – 1787 is similar to other Church Records in Galicia:  it was written in Latin and the information was written in a columnar format in books with preprinted pages.  Józef's death record reports that:
Józef Dańko died on October 26, 1787
He lived in house number 161
He was a male Catholic
He was 70 years old when he died
His cause of death was Morbograpante, but I don't know how to translate this word or phrase
The other death records I have are more recent records that include the name of the spouse of the deceased, the date of burial, the name of the officiating priest, and the occupation of the deceased.  Since the earliest death records contain so little information, I may never be able to positively connect Józef with my family.
Genealogical Trivia
Approximate Numbers of Deaths due to:
Copyright © 2006 by Stephen J. Danko