Marie Gamache, born on 25 Dec 1839, died on 22 May 1843. Her death and burial are recorded as entry S.33 in the registers of the parish of St. Cyprien in Napierville, Lower Canada.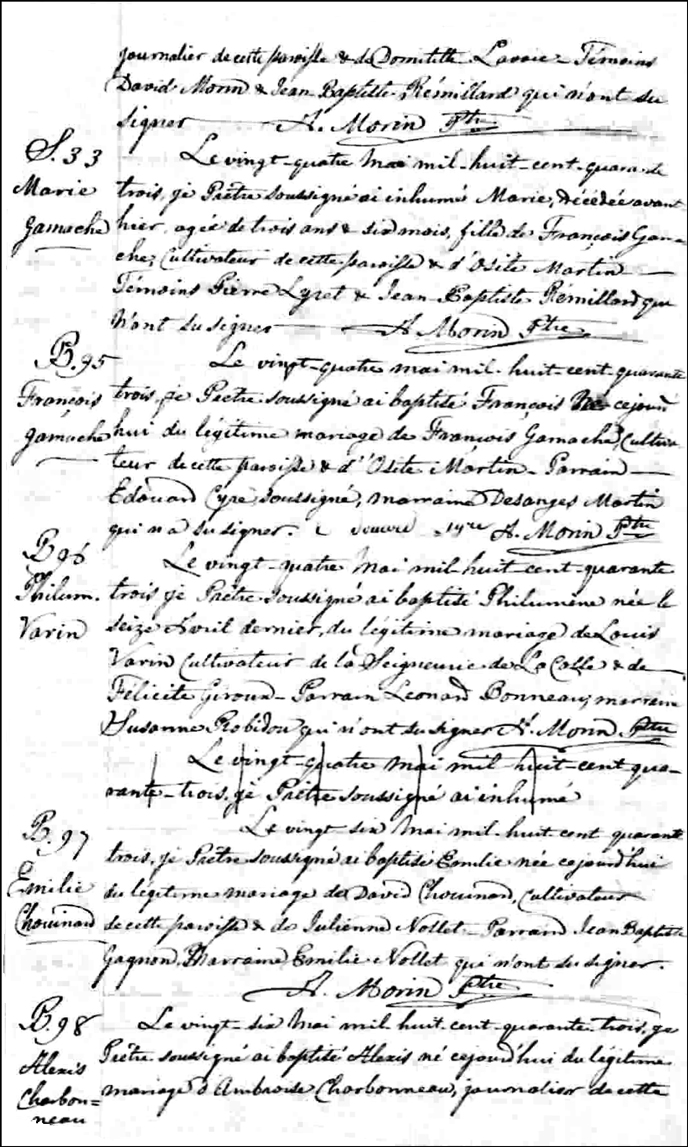 The Death and Burial Record of Marie Gamache – 1843
SOURCE: Gabriel Drouin, comp. Drouin Collection. Montréal, Québec, Canada: Institut Généalogique Drouin. Death and Burial Record of Marie Gamache, Parish of St. Cyprien, Napierville, Napierville Co., Lower Canada, 1843. Back of Folio 18, S.33.
Click on the link for a PDF copy of the Death and Burial Record of Marie Gamache – 1843. Translated from the French, the record states:
S.33 [Burial #33]
Marie
Gamache

On the twenty-fourth of May, one thousand eight hundred forty-three, I, the undersigned priest, have buried Marie, who died the day before yesterday at the age of three years and six months, the daughter of François Gamache, farmer of this parish, and Osite Martin – Witnesses were Pierre Lyret and Jean Baptiste Remillard, who did not know how to sign.

[signed] A Morin, Priest
In the short time I've been looking at these records from the Drouin collection, I've noticed two things:
The families tended to move from parish to parish and county to county quite a bit. Usually, most of the children would be born in the same parish, but when the children were grown, they moved to a different parish. The children, did not, however, move far from their birthplaces. They usually just moved to a nearby parish or nearby county.

Several given names were very common. Marie and Joseph, of course are common honorific names, and many children given these names at baptism were also given a second name, and they used their second name as a given name throughout their lives.
This record may be found on the back of folio 18 as record number S.33 in the records of the parish of St. Cyprien in Napierville for the year 1843. The record may also be found as image 25 of 59 in the Québec Vital Records (Drouin Collection) on Ancestry.com in the records for 1843 in Napierville St-Cyprien.