Wiktorya Dymek, daughter of Ignacy Dymek and Rozalia Chaber, was born on 20 December 1858 in Piasutno Dymki, Kolno Powiat, Łomża Gubernia, Congress Kingdom of Poland. She was baptized on 21 December 1858 in the parish church in Mały Płock, Kolno Powiat, Łomża Gubernia, Congress Kingdom of Poland.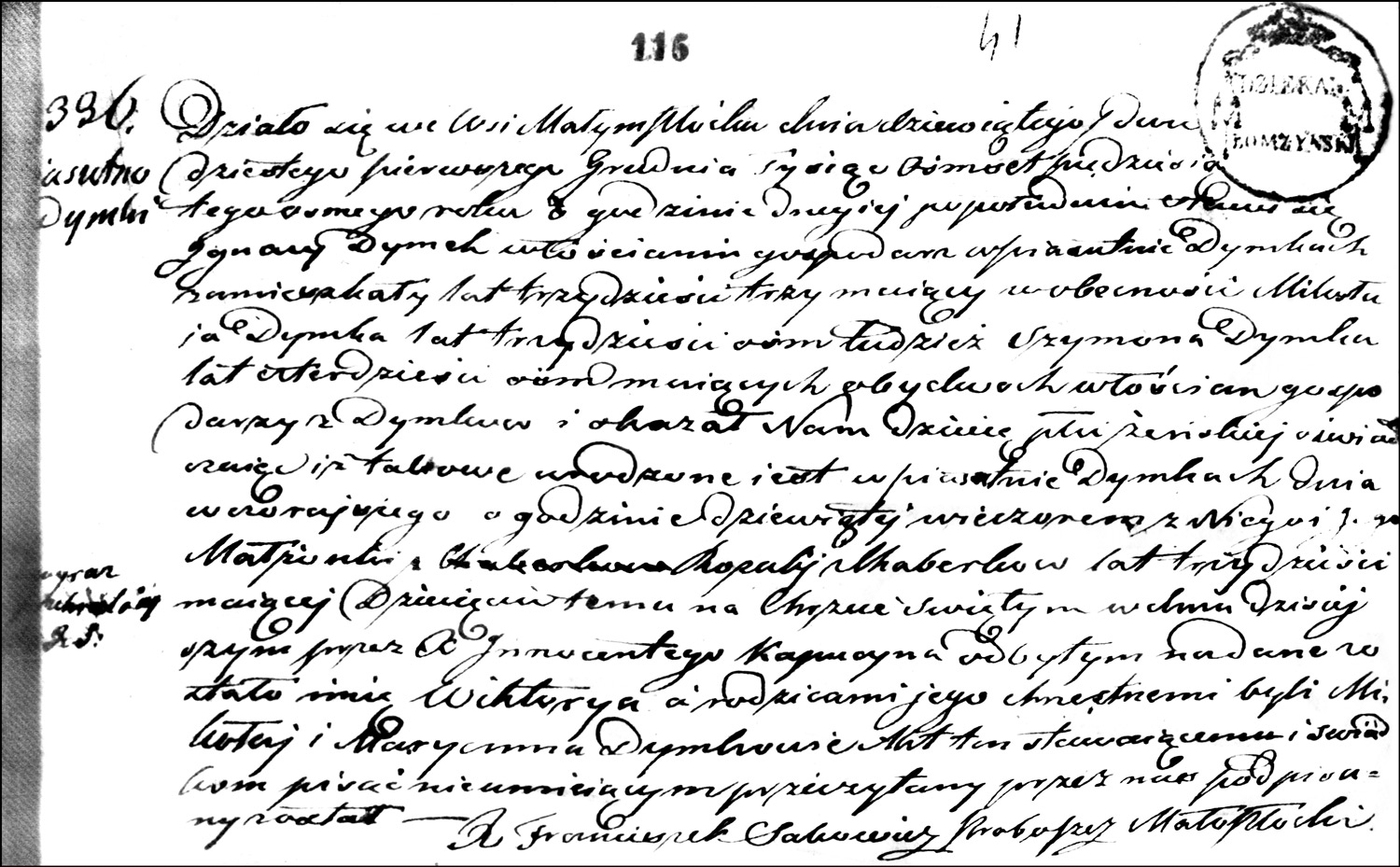 The Birth and Baptismal Record of Wiktorya Dymek – 1858
SOURCE:  Parafia pw. Znalezienia Krzyża Św. (Mały Płock, Kolno Powiat, Łomża Gubernia, Congress Kingdom of Poland), " Akta urodzeń 1852-1862 [Records of Births 1852-1862]," page 113, entry 336, Wiktorya Dymek, 21 December 1858; filmed as Księgi metrykalne, 1771-1863; FHL INTL microfilm 0,948,383.
Click on the image above to view a higher resolution image. Click on the link for a PDF copy of the Birth and Baptismal Record of Wiktorya Dymek. Translated from the Polish, the record reads:
336 Piasutno Dymki

This happened in the village of Mały Płock on the ninth / twenty-first day of December in the year one-thousand eight-hundred fifty-eight at the hour of two in the afternoon.  There appeared Ignacy Dymek, a peasant farmer residing in Piasutno Dymki, thirty-three years of age, in the presence of Mikołaj Dymek, thirty-eight years of age, together with Szymon Dymek, forty-eight years of age, both peasant farmers in Dymki, and he showed Us a child of the female sex, stating that this child was born in Piasutno Dymki yesterday at the hour of nine in the evening of himself and his wife Chaber Rozalia née Chaber, thirty years of age.  To this child at Holy Baptism performed by the Reverend Innocenty the Capuchin, on this day was given the name Wiktorya and her Godparents were Mikołaj and Maryanna Dymek.  This document was read aloud to the illiterate declarants and witnesses and was signed by Us.
[signed] The Reverend Franciszek Sakowicz, Pastor of Mały Płock

[error?] crossed out F[ranciszek] S[akowicz]
The priest wrote the mother's maiden name, crossed it out, and then wrote her full name.  He noted the correction in the left margin of this record and signed the correction with his initials (FS).  This is the first record I found that referred to a village with Dymki in the name.  The village of Piasutno Dymki was listed as Stanislaw Dymek's place of birth on his World War II Draft Registration Card.  I don't know if or how this Stanislaw Dymek is related to the Dymek's in my family but perhaps I should try to find out who his parents were now that I'm reasonably certain I'm researching the records for his birth place.
Copyright © 2011 by Stephen J. Danko