Józef Dymek, son of Józef Dymek and Bronisława Gołaś arrived in the United States at New York on 06 October 1913 aboard the S.S. Prinz Friedrich Wilhelm sailing from Bremen.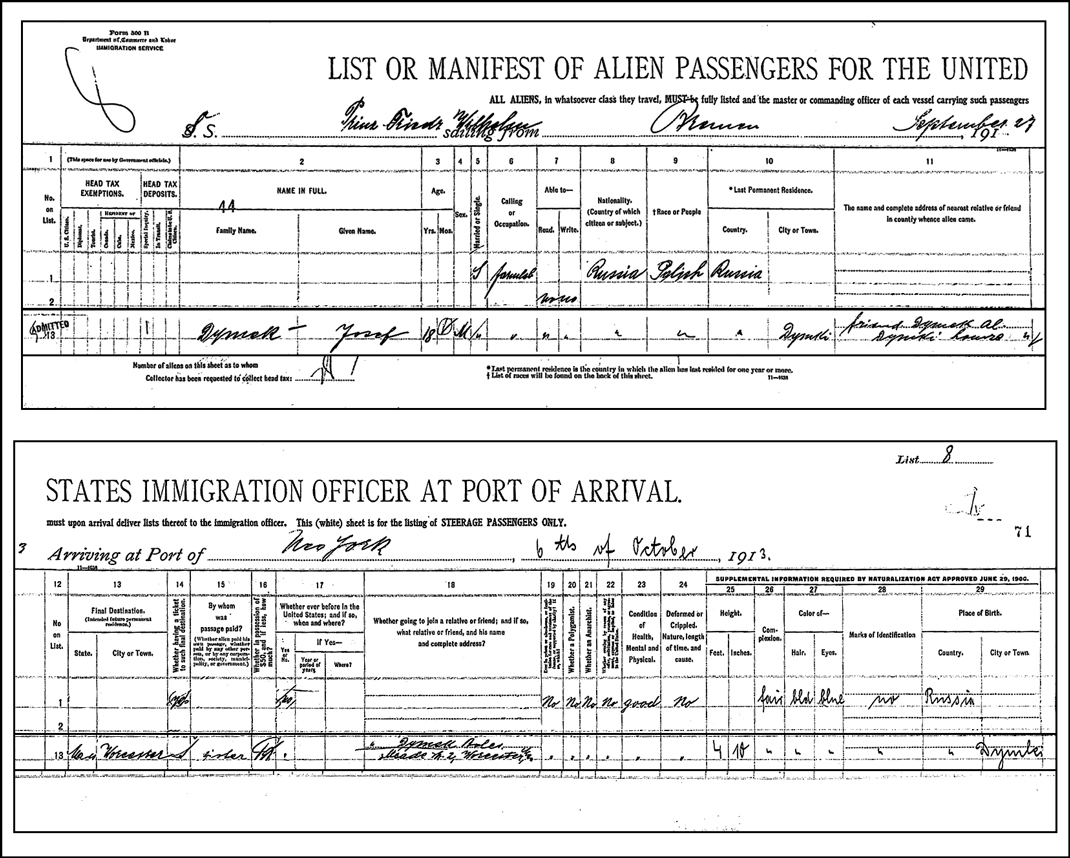 The Alien Passenger Manifest of Józef Dymek – 1913
SOURCE:  Manifest, S. S. Prinz Friedrich Wilhelm, October 1913, list 8, line 13, Jozef Dymek, age 18; "Passenger Record," digital images, Statue of Liberty-Ellis Island Foundation (http://www.ellisisland.org : accessed 29 January 2011).
The image above is cropped to emphasize the relevant information for Józef Dymek.  Click on the link for a PDF Copy of the Passenger Manifest for Józef Dymek – 1913.  The manifest states:
Josef [Józef] Dymek was an 18 year old single male listed on list 8, line 13
He departed Bremen on board the S.S. Prinz Friedrich Wilhelm on 23 September 1913
He arrived in New York on 06 October 1913
He was a farm laborer and was not able to read or write
His nationality was Russia and his race or people was Polish
His last permanent residence was Dymki, Russia
He listed a friend Al Dymek of Dymki, Lomza as his nearest relative or friend in the country from which he came
His final destination was Worcester, Mass and he had a ticket to his final destination
His passage was paid by his sister and the amount of money he had with him is illegible
He had never been in the United States before
He was going to join his sister, Boles. Dymek on 2 Meade St., Worcester, Mass.
He was never in prison, not a polygamist, not an anarchist, not under contract for labor, of good health, and not deformed
He was 4 feet, 10 inches tall, with fair complexion, blond hair, and blue eyes, with no marks of identification
He was born in Dymki, Russia
The location from which Józef Dymek came was most likely Dymki, Kolno Powiat, Łomża Gubernia, Vistula Land, Russian Empire.
Copyright © 2011 by Stephen J. Danko