Maryanna Izbicki, the sister of Franciszek Izbicki, was born a few years before Franciszek, in 1821.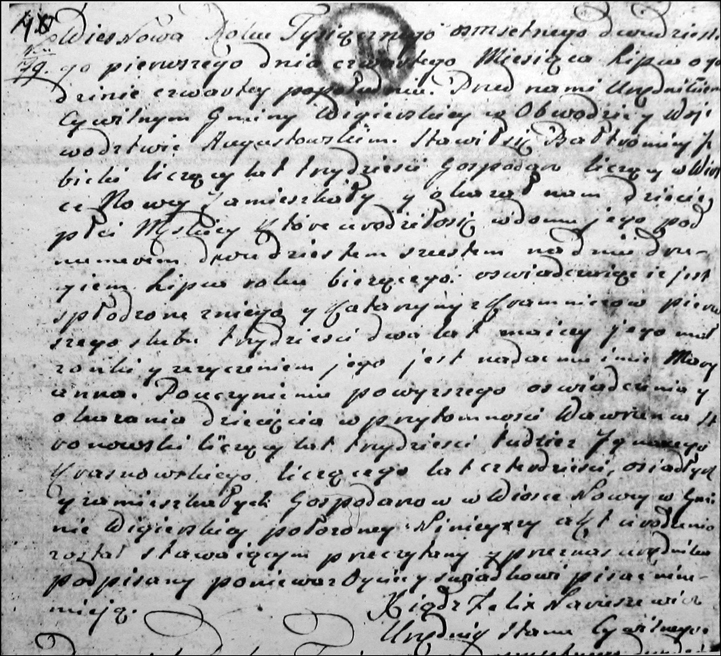 The Birth and Baptismal Record of Maryanna Izbicki – 1821
SOURCE: Roman Catholic Parish of the Immaculate Conception of Mary in Wigry, Poland. Księga Urodzonych (Book of Births). 1821. Page 40. Entry Number 79. FHL INTL Film 0752637, Family History Library, Salt Lake City, Utah. Text in Polish, translated by Stephen J. Danko.
Click on the link for a PDF copy of the Birth and Baptismal Record of Maryanna Izbicki – 1821. Translated from the Polish, the record states:
40 Number 79. Wieś Nowa

In the year one thousand eight hundred twenty-one on the fourth day of the month of July at four o'clock in the afternoon, before us, the Civil Registrar of the Wigierski gmina [township] in the obwód [district] and województwo [province] of Augustów. Bartłomiej Izbicki presented himself, a farmer, age thirty, living in Nowa Wieś, and he showed us a child of the male sex who was born in his house at number twenty-six on the second day of April of the current year, stating that it was begotten of him and Katarzyna née Kramniczówna, age thirty-two, the wife by his first marriage, and that it is his wish to give it the name Maryanna. After making the above statement and showing the child in the presence of Wawrzeniec Stronowski, age thirty and also of Ignacy Krasnowski, age forty, farmers settled and living in Nowa Wieś in the Wigry gmina. The present birth record was read aloud to the declarants and was signed by us, the registrar, since the father and witnesses cannot write.

Reverend Felix Nacieszewicz
Registrar of the Civil State.
This record reports the birth of a child of Maryanna, the daughter of Barłomiej Izbicki and Katarzyna Kramniczówna. The priest who completed the record apparently wasn't paying attention to what he was writing, since he declared that Maryanna was a child of the male sex: dziecię płci Męskiej.
The ages of the parents are probably approximations, because in 1821, the father was reported to be 30, but in 1824, he was reported to be 38 – he became 8 years older in just 3 years! The mother's age is equally questionable. In 1821, she was reportedly 32, but in 1835, she was reported to be 30 – the mother became younger with time! The births of the parents occurred before 1808, the earliest date for which these parish records were microfilmed. I'll probably never know when they were actually born.
This is the last of the records for the Izbicki family that I found while in Salt Lake City recently. I'll either have to order films through my local Family History Library or wait until my fall trip to Salt Lake City if I want to find more records.