I've previously written about my cousin Rita Meleski, her husband Bernard Izbicki, and her father-in-law, Bolesław Dominick Izbicki, all of whom lived in Worcester, Massachusetts. Bolesław was the immigrant ancestor of this family, and when he came to America, he left his parents, Dominik Izbicki and Józefata Marianna Bizewska behind in Piertanie, Poland. Dominik was born in 1848. His Birth and Baptismal Record was recorded in the Book of Births in the Parish of Wigry.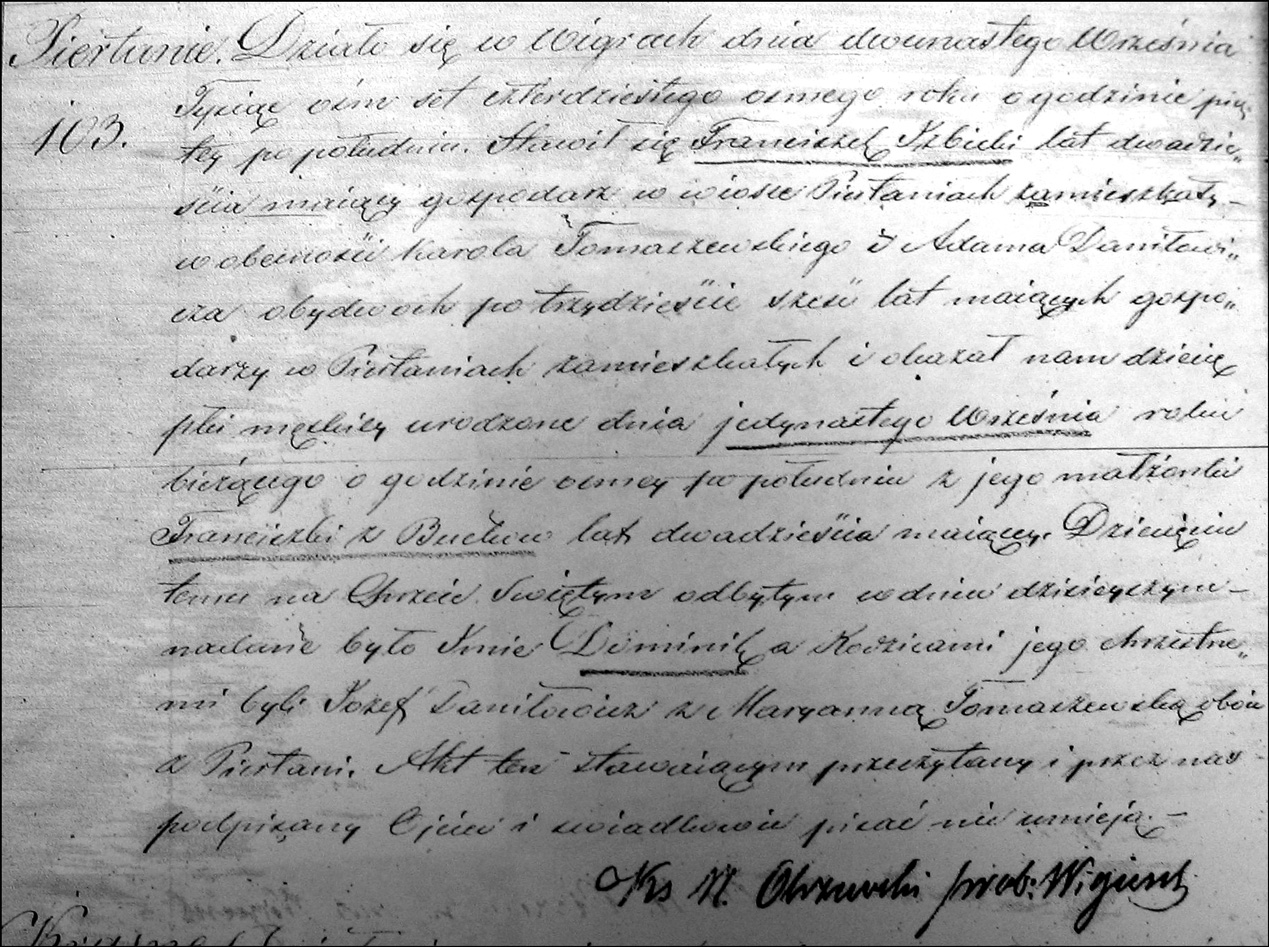 The Birth and Baptismal Record of Dominik Izbicki
SOURCE: Roman Catholic Parish of the Immaculate Conception of Mary in Wigry, Poland. Księga Urodzonych (Book of Births). 1848. Entry Number 103. FHL INTL Film 0752640, Family History Library, Salt Lake City, Utah. Text in Polish, translated by Stephen J. Danko.
Click on the link for a PDF copy of the Birth and Baptismal Record of Dominik Izbicki. Translated from the Polish, the record states:
103. Piertanie

This happened in the Wigry on the twelfth day of September 1848 at one o'clock in the afternoon.  Franciszek Izbicki presented himself, age 20, a farmer living in the small village of Piertanie, in the presence of Karol Tomaszewski and Adam Daniłowicz both age 36, farmers living in Piertanie, and he showed us a male child born on the eleventh day of September of the present year at eight o'clock in the afternoon, born to his wife Franciszka née Bućko, age 20.  At Holy Baptism performed this day, the child was given the name Dominik, and his Godparents were Józef Daniłowicz and Maryanna Tomaczewska both from Piertanie.  This document was read aloud to the declarants and signed by us. The father and the witnesses cannot write. –

Reverend W. Olszewski, parish priest in Wigry
I obtained this record while I was at the Family History Library in Salt Lake City last weekend. The library has birth, marriage, and death records from the Wigry parish from 1808 to 1882. Now that I've confirmed that the records for the correct family are on these microfilms, I can order the films to my local Family History Center and continue my research on this family without the need to travel to Salt Lake City.