The second child born to my great-great grandparents, Paweł Dańko and Zofia Szymańska, was named Szymon. His Birth and Baptismal Record is the third entry for October in the image below.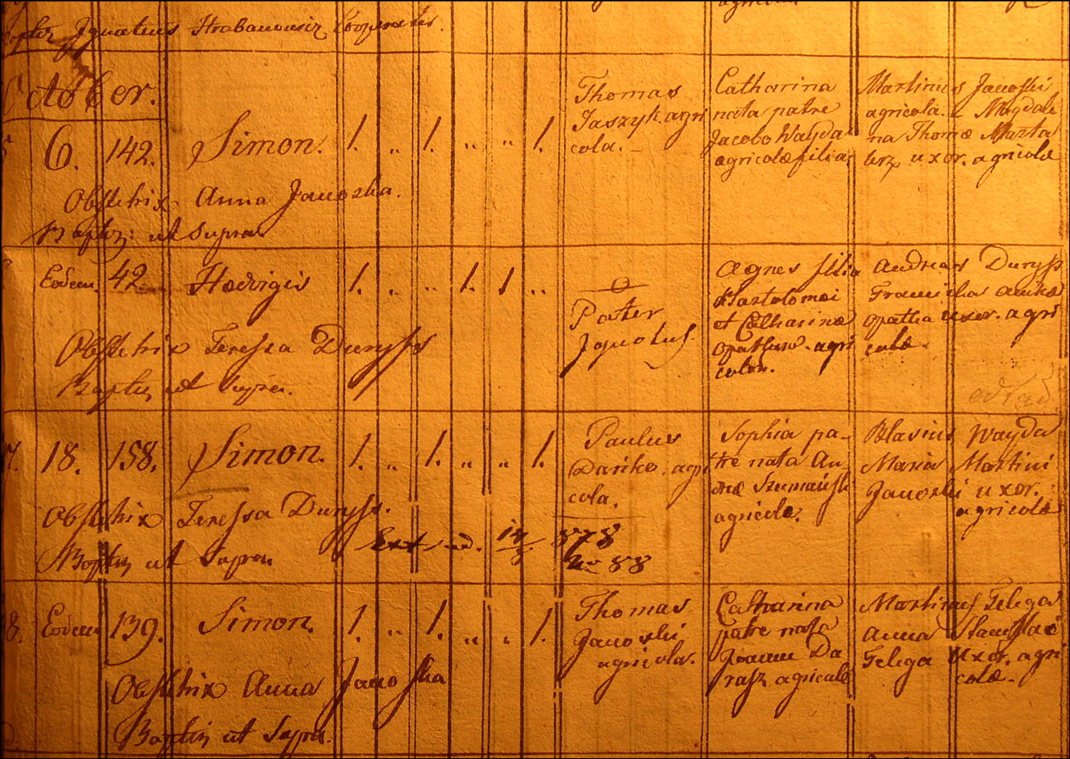 The Birth and Baptismal Record for Szymon Dańko – 1829
SOURCE: Roman Catholic Parish of the Immaculate Heart of the Most Holy Virgin Mary, Dubiecko, Poland. Liber Natorum et Baptisatorum (Book of Births and Baptisms). 1829. Szymon Dańko. Text in Latin, translated by Stephen J. Danko.
Click on the link for a PDF copy of the Birth and Baptismal Record for Szymon Dańko – 1829. The record, translated from the Latin, states:
Szymon Dańko was born on 17 Oct 1829, in house number 158 in Nienadowa, a boy legitimately born to a Catholic family and delivered by the midwife Teresa Durys

He was baptized on the next day, 18 Oct 1829 in the church in Dubiecko by Ignacy Hrobanowicz, Assistant Pastor

His parents were Paweł Dańko, a farmer, and Zofia, daughter of Andrzej Szymański, a farmer

His Godparents (Sponsors) were Błażej Wayda and Maria, wife of Marcin Janoski, a farmer

A notation says "removed 14 Aug 1878 to No. 88″
I had previously published the Birth and Baptismal Record of Paweł Dańko, the Marriage Record of Paweł Dańko and Zofia Szymańska, and the Birth and Baptismal Record of the couple's first child, Marianna Dańko.
Note that three of the four children listed on the image above were boys, and all three boys were named Simon (Szymon). Was Simon a popular name for boys that year? The Feast of Saint Simon is celebrated on 28 Oct, so there is good reason for Catholics to give the name Simon (Szymon) to a son born in the month of October.
I'm still not certain what the "Ext" notations mean. At first, I thought it was an indication that the individual moved to a different house. However, the Marriage Record for Wojciech Dańko and Marianna Jedlińska shows a similar notation with a date that was long after both Wojciech and Marianna had died.
My best guess is that the notation is the date when the information was extracted for an official certificate, but I'm still not sure about this.