Wojciech Dańko died in 1853. Two wives and at least one of his children died before him. His record is the fourth entry on the image below.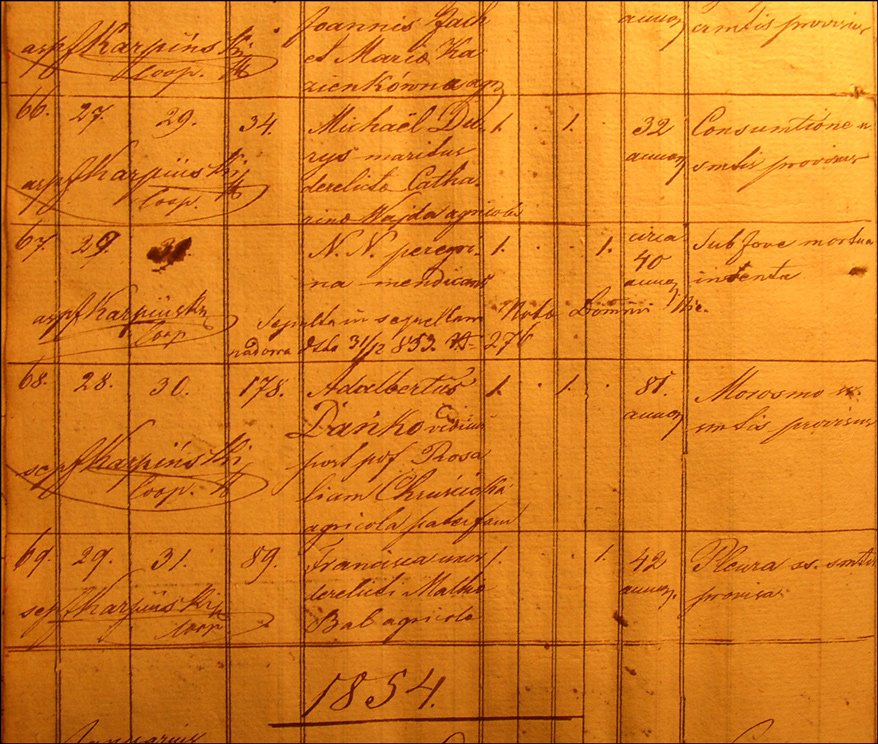 The Death Record of Wojciech Dańko – 1853
SOURCE: Roman Catholic Parish of the Immaculate Heart of the Most Holy Virgin Mary,
Dubiecko, Poland. Liber Mortuorum (Book of Deaths). 1853. Wojciech Dańko.
Text in Latin, translated by Stephen J. Danko.
Click on the link for a PDF copy of the Death Record of Wojciech Dańko – 1853. Translated from the Latin, the record states:
Wojciech Dańko, the widower of Rozalia Chruścicka, a farmer and the father of a family, died on 28 Dec 1853, the 68th death in Nienadowa that year

Wojciech was a Catholic male, residing in house number 178

He was buried on 30 Dec 1853 by J Karpiński, Assistant Pastor of the church in Dubiecko

He was 81 years old at the time of his death

His death was due to [old age?] and he received the final sacrament
Since this record states that Wojciech was a widower, I can assume that Rozalia Chruścicka died before him, even though I don't have a copy of her death record.
I'm not sure how to translate the word morosmo. I can't find this word in my dictionaries. I have translated it as "old age", but this translation is probably not literally correct.
The rather enigmatic ss. smtis provisus is an abbreviation for "the sacred sacraments [last rites] were provided.
Wojciech was buried two days after he died. At the time he died, the bodies of the deceased were usually buried soon after death, at least in part due to concerns about communicable diseases.
One difficulty with all these Galician records is the frequent use of abbreviations and the habit of the priests of writing the first part of a word on one line and finishing the spelling on the next line.