The youngest child of Wojciech Dańko and Rozalia Chruścicka was born in 1833 and named Anna. Her Birth and Baptismal Record is the next to last entry on the page below.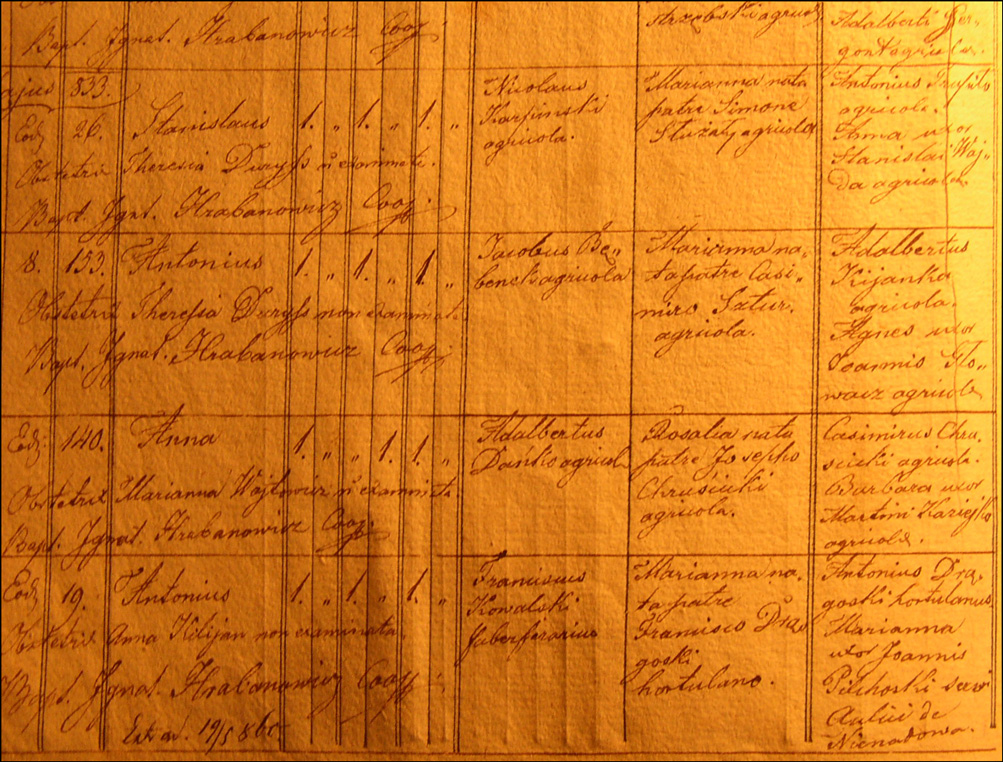 The Birth and Baptismal Record of Anna Dańko – 1833
SOURCE: Roman Catholic Parish of the Immaculate Heart of the Most Holy Virgin Mary, Dubiecko, Poland. Liber Natorum et Baptisatorum (Book of Births and Baptisms). 1833. Anna Dańko. Text in Latin, translated by Stephen J. Danko.
Click on the link for a PDF copy of the Birth and Baptismal Record of Anna Dańko – 1833. The record, translated from the Latin, states:
Anna Dańko was born in house number 140 in Nienadowa, a girl legitimately born to a Catholic family and delivered by the midwife Marianna Wojtowicz, not examined

Anna was baptized by Ignacy Hrabanowiz, Assistant Pastor, on the same day she was born, [26] May 1833 in the church in Dubiecko

Her parents were Wojciech Dańko, a farmer, and Rozalia, daughter of Józef Chruścicki

Her Godparents (Sponsors) were Kazimierz Chruscicki, farmer, and Barbara, wife of Marcin Kaziejko, farmer
While the top part of the page is missing, it appears that the form used to record births and baptisms changed between 1830 and 1833. Later records in my possession that include the header confirm that the forms did, indeed, change.
The columns for legitimate and illegitimate births have apparently been reversed, and the two columns previously used to record the names and occupations of the Godparents have apparently been combined into one.
Two columns to the left of the form appear to be missing from this image. There should be a column for the sequential number of birth and the date of birth. This record only states "the same", indicating that the date of baptism was the same as the date of birth.
Since the date of birth is missing from this image, I have to depend on the notes of the researcher who took this picture. The notes state that Anna was born on 26 May 1833 in Nienadowa.