The seventh child of Wojciech Dańko and Marianna Jedlińska was named Michał.  He is listed as the first birth recorded on page 692 of the Birth and Baptismal Register for Nienadowa in 1816.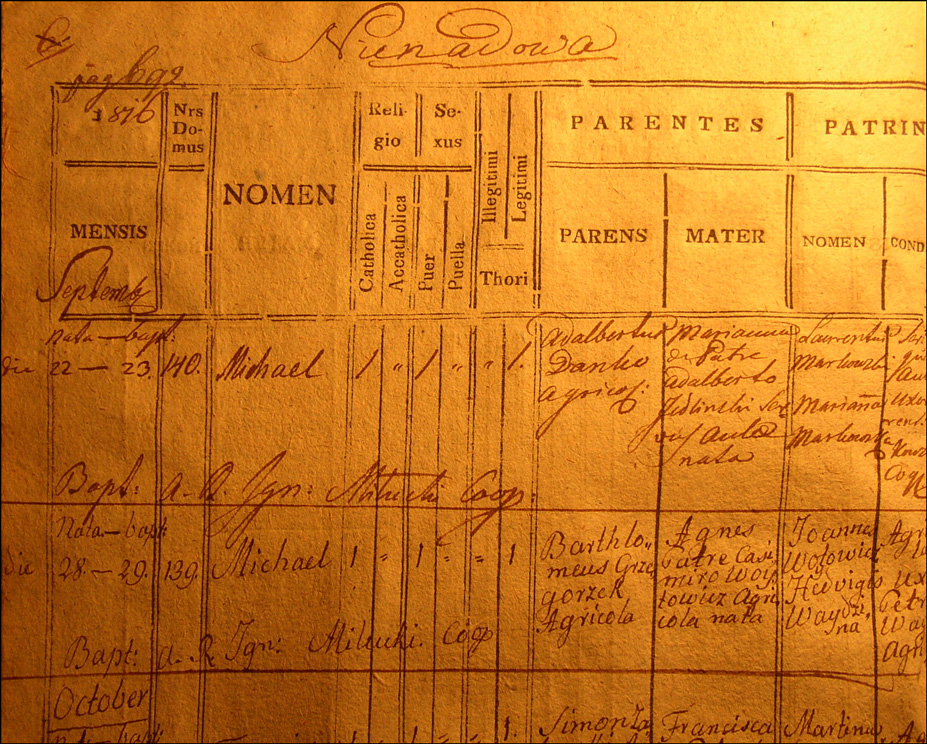 Birth and Baptismal Record for Michał Dańko – 1816
SOURCE: Roman Catholic Parish of the Immaculate Heart of the Most Holy Virgin Mary, Dubiecko, Poland. Liber Natorum et Baptisatorum (Book of Births and Baptisms). 1816. Michał Dańko. Text in Latin, translated by Stephen J. Danko.
Click on the link for a PDF copy of the Birth and Baptismal Record for Michał Dańko – 1816. The record states:
Michał Dańko was born on 22 Sep 1816, in house number 140 in Nienadowa, a boy legitimately born to a Catholic family

He was baptized on 23 Sep 1816 by A.R. Ignacy Miłucki in the church in Dubiecko

His parents were Wojciech Dańko, a farmer, and Marianna Jedlinska, daughter of Wojciech Jedlinski, [born a servant of the court ?]

His Godparents (Sponsors) were Wawrzeniec Markowski and Marianna Markowska, occupations illegible
With this record, the dates of both the birth and baptism were recorded.
Note that Michał was born in house number 140. All the previous children born to Wojciech Dańko and Marianna Jedlińska were born in house number 161.
A notation under the mother's name appears to state that Marianna Jedlińska was born to Wojciech Jedliński, born a servant to the court. If this translation is correct, it appears that Marianna's father was well-connected in the community.
The occupations of the Godparents (sponsors) are largely illegible, since it was cut off in this image. However, the words "servant" and "wife" appear to be in this description.