The sixth child of Wojciech Dańko and Marianna Jedlińska was born in 1810 and was named Stanisław. His record is the fifth from the top of the image below.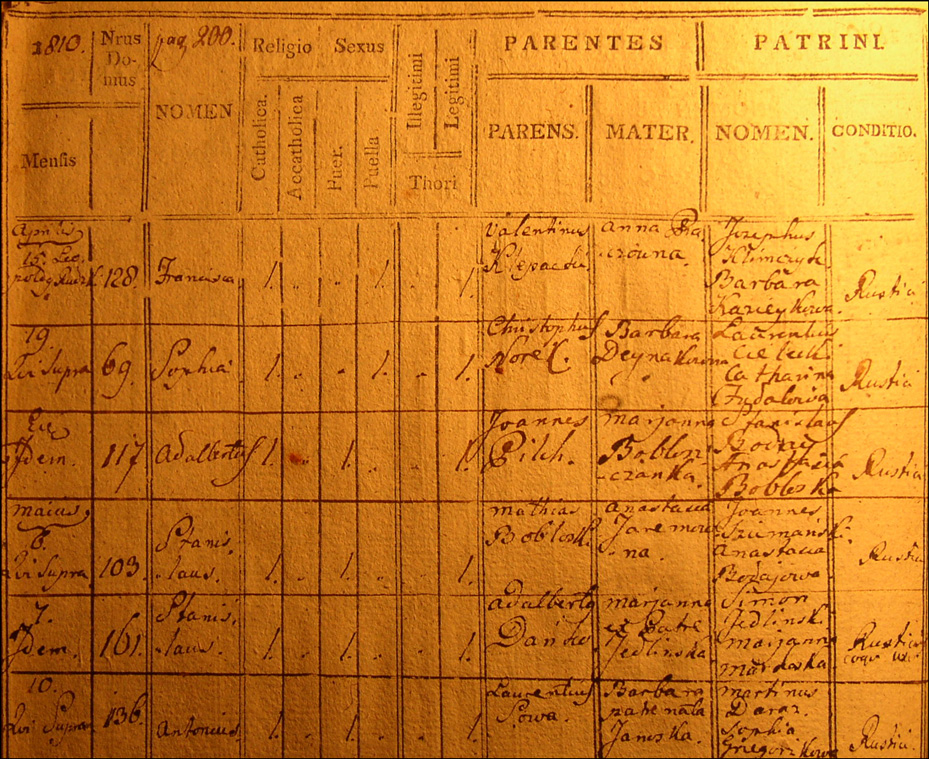 The Birth and Baptismal Record for Stanisław Dańko
SOURCE: Roman Catholic Parish of the Immaculate Heart of the Most Holy Virgin Mary, Dubiecko, Poland. Liber Natorum et Baptisatorum (Book of Births and Baptisms). 1810. Stanisław Dańko. Text in Latin, translated by Stephen J. Danko.
Click on the link for a PDF copy of the Birth and Baptismal Record for Stanisław Dańko. The record, translated from the Latin, states:
Stanisław Dańko was born in house number 161 in Nienadowa, a boy legitimately born to a Catholic family

He was baptized on 07 May 1810 in the church in Dubiecko

His parents were Wojciech Dańko and Marianna Jedlinska

His Godparents (Sponsors) were Szymon Jedlinski, a landless farmer, and Marjanna Markoska, wife of a farmer

He was baptized by Leopold Rudzki
Stanisław's Birth and Baptismal Record actually includes the header of the page. Many records I have do not include the header, and so I used the header of this record to identify the contents of the record.
In the first column of Stanisław's record is written the Latin word "Idem", meaning "the same", and so I had to look at the previous entries to determine that the month was May and the name of the priest was Leopold Rudzki.