The third child and first daughter of Wojciech Dańko and Marianna Jedlińska was named Wiktoria. She was born in 1800 and is listed as the third baptism from the top of the image below.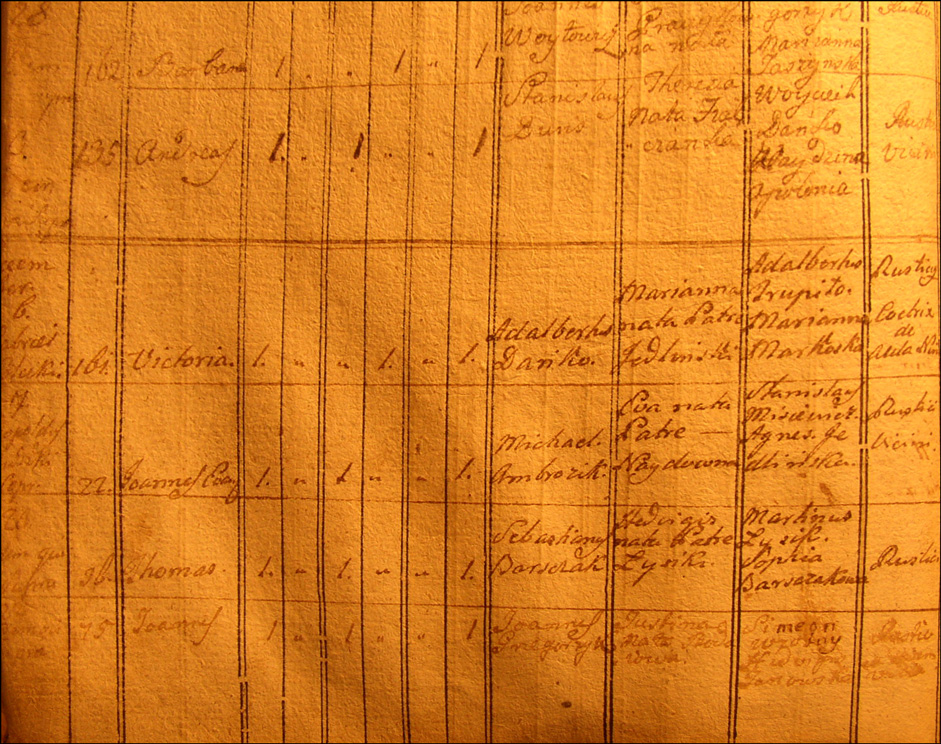 The Birth and Baptismal Record for Wiktoria Dańko
SOURCE: Roman Catholic Parish of the Immaculate Heart of the Most Holy Virgin Mary, Dubiecko, Poland. Liber Natorum et Baptisatorum (Book of Births and Baptisms). 1800. Wiktoria Dańko. Text in Latin, translated by Stephen J. Danko.
Click on the link for a PDF copy of the Birth and Baptismal Record for Wiktoria Dańko. The record states:
Wiktoria Dańko was born in house number 161 in Nienadowa

She was baptized on [06 December 1800 ?] in the church in Dubiecko

Her parents were Wojciech Dańko and Marianna Jedlińska

Her Godparents (Sponsors) were Wojciech Trupiło, a landless farmer, and Marianna Markoska, [well-considered of the parishioners of Nienadowa ?]

She was baptized by [Gabriel Golecki ?]
The left side of this document has deteriorated to the point where it is difficult to read. Click on the image above and enlarge it as much as you can so you can see the rough texture of the paper on which this document is written.
Personally, I think that images such as this, taken with a digital camera, are so much superior to the microfilm images commonly available for historical records. Not only are the photographic images usually clearer than microfilm images, but you can see the texture and color of the paper in the photographic image.
The records for the parish in Dubiecko, Poland have not been microfilmed by the Genealogical Society of Utah, so I had to hire a genealogist in Poland to obtain these images for me.
The genealogist indicated that the date of baptism for Wiktoria was 06 Nov 1800, but the name of the month looks more like December to me.
The name of the priest who baptized Wiktoria is difficult to read, but I think it is Gabriel Golecki. I also couldn't translate the occupation of Marianna Markoska, one of the sponsors. I believe the occupation may say in Latin "Coctrix de Adela Nin", which I have translated as "well-considered of the parishioners of Nienadowa", meaning that Marianna may have been a member of the nobility, but I'm not at all certain about this translation.
Copyright © 2007 Stephen J. Danko