Of the two places called Piasutno in the Słownik Geograficzny Królestwa Polskiego i Innych Krajów Słowiańskich (Geographical Dictionary of the Kingdom of Poland and other Slavonic Countries), the second is located in the what the Słownik Geograficzny calls the Szczytno Powiat.  The village of Piasutno (Piasutten in German) is not named on a map of East Prussia from 1882, but it is located about halfway between Schon Damerau and Gr. Puppen.  Today, Schon Damerau is called Trelkowo and Gr. Puppen is called Spychowo.  The Słownik Geograficzny entry for Piasutno was translated in a previous post.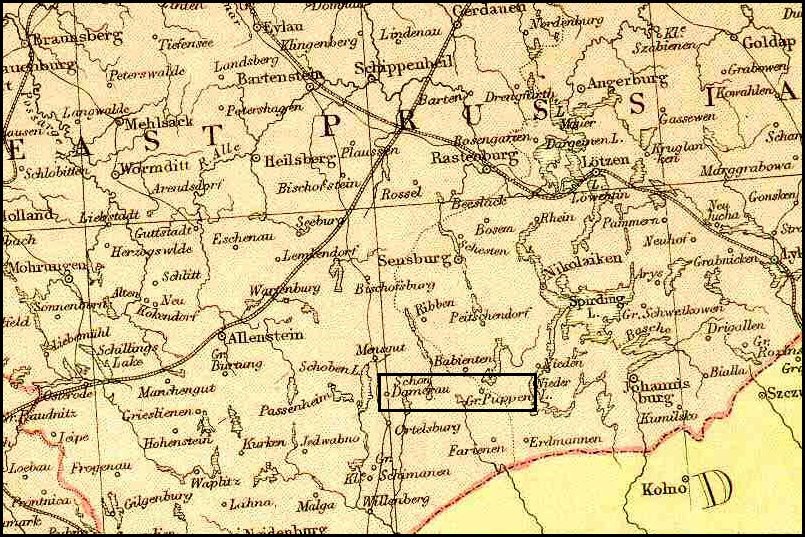 Map of the Piasutno Area – 1882
SOURCE:  Blackie & Son Atlas (Edinburgh, 1882), "German Empire, East Prussia 1882"; digital image, The Federation of East European Family History Societies, FEEFHS Map Library
(http://www.feefhs.org/maplibrary/german/ge-eprus.html : accessed 12 Feb 2011).
Of interest to me is the proximity of this village to Schon Damerau (or Gross Schöndamerau, or Trelkowo).  My grand uncle Józef Niedziałkowski was married twice, both times in Gross Schöndamerau in the interwar years when the area was still under German control.
Copyright © 2011 by Stephen J. Danko