My great-great grandfather, Pawel Dańko, was born in 1799.  Pawel was the older brother of Maciej Dańko, whose Birth and Baptismal Record I showed yesterday.  Pawel's baptism is recorded as the last record on this page from the Dubiecko parish records.  His baptism was the first baptism recorded for Nienadowa that year.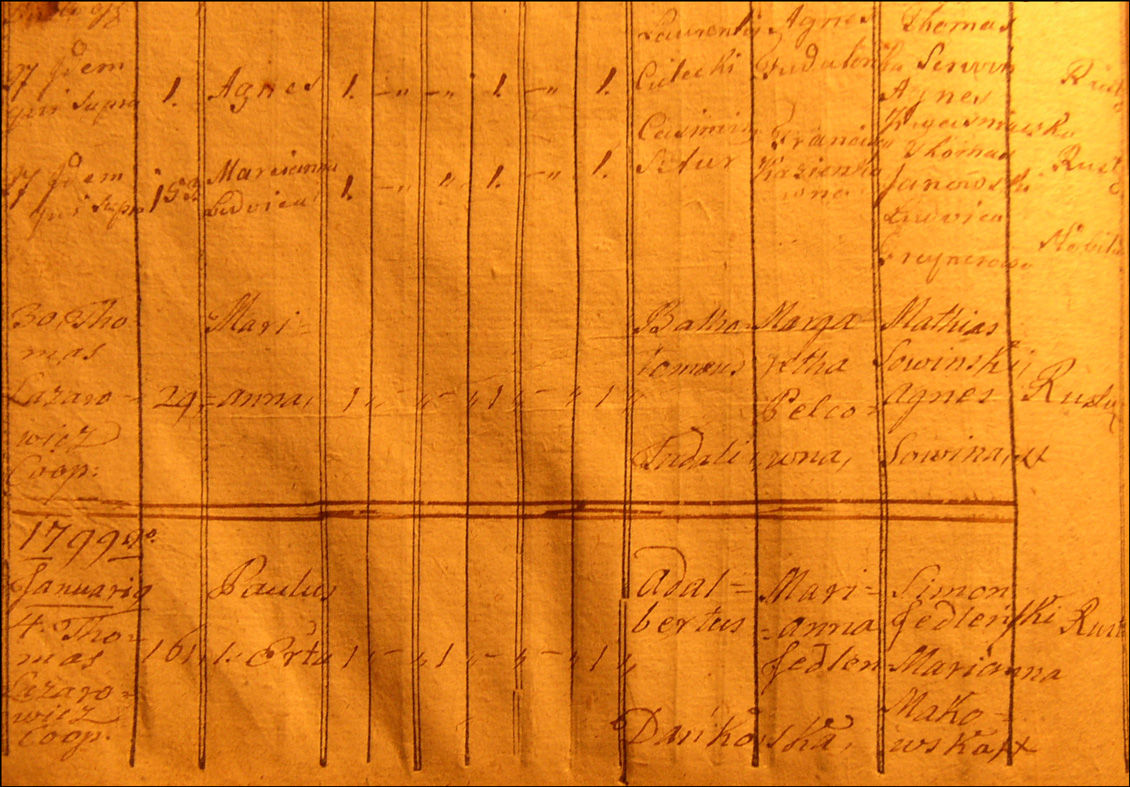 The Birth and Baptismal Record for Pawel Dańko
SOURCE: Roman Catholic Parish of the Immaculate Heart of the Most Holy Virgin Mary, Dubiecko, Poland. Liber Natorum et Baptisatorum (Book of Births and Baptisms). 1799. Text in Latin, translated by Stephen J. Danko.
Click on the link for a PDF copy of the Birth and Baptismal Record for Pawel Dańko.  The record, translated from the Latin, states:
Pawel Dańko was born in house number 161 in Nienadowa

He was baptized on 04 Jan 1799 in the church in Dubiecko

His parents were Wojciech Dańko and Marianna Jedleńska

His Godparents (Sponsors) were Szymon Jedleński and Marianna Makowska

He was baptized by Tomasz Lazarowiz, Assistant Pastor

There is an enigmatic note "1. Ertu"
Note that the house number for Pawel is the same as that for Maciej: 161.  House numbers are a good way to verify that the individuals named in the records are part of the same family group.
The church records in Galicia were almost never indexed.  House numbers provide a quick way to find records for individuals in the same family group because the researcher can quickly scan the House Number column instead of reading each name.
Notice, too, that the mother's maiden name in this record is spelled Jedleńska, but is spelled Jedlińska in Maciej's record.  Other spelling differences between the records include Marianna / Marjanna and Makowska / Markoska.
The parents and Godparents named in these records probably could not read or write and probably didn't know how to spell their own names.  The duty of correctly spelling the names was up to the priest, and different priests often spelled the names differently.