Of the three places called Dymki in the Słownik Geograficzny Królestwa Polskiego i Innych Krajów Słowiańskich (Geographical Dictionary of the Kingdom of Poland and other Slavonic Countries), the third is located in the Borysów Powiat, now located in Belarus.  Although the village of Dymki does not appear on the 1834 Map of Minsk Gubernia, Dymki was adjacent to Borysov, and Borysov is clearly shown on this map.  The Słownik Geograficzny entry for Dymki was translated in a previous post.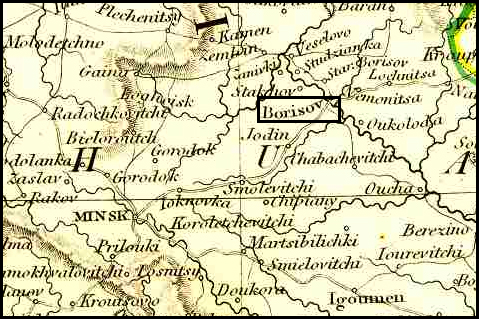 Map of the Borysov Area – 1834
SOURCE: 1834 Map of Minsk Gubernia. Online http://www.jewishgen.org/belarus/1834_minsk_gubernia_map.htm; downloaded 07 Feb 2011.
A search on Wikipedia reveals that Napoleon's army lost about 36,000 men when trying to cross the Berezina River, confirming that this is the site of the former village of Dymki.  The third Słownik Geograficzny entry for Dymki states that "In the year 1812 on the last day of November, this place was witness to a terrible battle at the time of the retreat of the French.  It was turned to ashes."
Copyright © 2011 by Stephen J. Danko