Alexander Skowronski died in 1970, seven years after his wife's passing.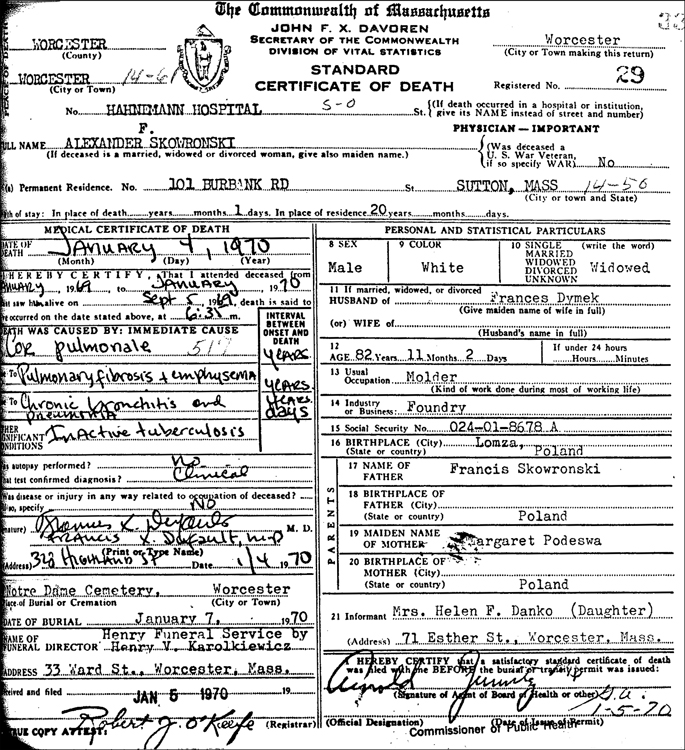 Certificate of Death for Alexander F. Skowronski – 1970
SOURCE: The Commonwealth of Massachusetts. Standard Certificate of Death. City of Worcester. 1970. Volume Unknown. Page 33. Alexander F. Skowronski. Massachusetts Registry of Vital Records and Statistics.
Click on the link for a PDF copy of the Certificate of Death for Alexander F. Skowronski.  The record states:
Alexander F. Skowronski, of 101 Burbank Road, Sutton, Massachusetts, died in Hahnemann Hospital, Worcester, Worcester Co., Massachusetts on 04 Jan 1970 at 6:35 m
He died of Cor pulmonale (for years), due to pulmonary fibrosis + emphysema (for years), due to chronic bronchitis and pneumonia (for years and days)
Another significant condition was inactive tuberculosis
He had been in his place of residence for 20 years and at his place of death for 1 day before death
The Medical Certificate of Death was signed by Francis X. Dufault, M.D. of 328 Highland Street on 04 Jan 1970
Alexander was buried in Notre Dame Cemetery, Worcester on 07 Jan 1970 by Henry Funeral Service by Henry V. Karolkiewicz, 33 Ward Street, Worcester
The Certificate of Death was received and filed on 05 Jan 1970 by Robert J. O'Keefe
Alexander was a white male, widower after Frances Dymek
He was 82 years, 11 months, and 2 days old at death
He had worked as a molder in a foundry before death
His Social Security Number was 024-01-8678 A
He was born in Poland, son of Francis Skowronski and Margaret Podeswa, both born in Poland
The informant was his daughter, Mrs. Helen F. Danko of 71 Esther St., Worcester, Massachusetts
On 05 Jan 1970, Arnold Zuruntz, the Commissioner of Public Health, certified that a satisfactory certificate of death was filed
I noticed that the time of death was listed as 6:35 m, with no indication of whether the death occurred in the AM or PM.  I further noticed that the Social Security Number is listed followed by the letter "A".  I don't know what this designation means.
Copyright © 2007 by Stephen J. Danko