Yesterday I wrote about the Birth Record for Adam Skowronski, the first child of Alexander Skowronski and Frances Dymek.  I also found the Death Record for Adam Skowronski.  It turns out that Adam lived for only four days.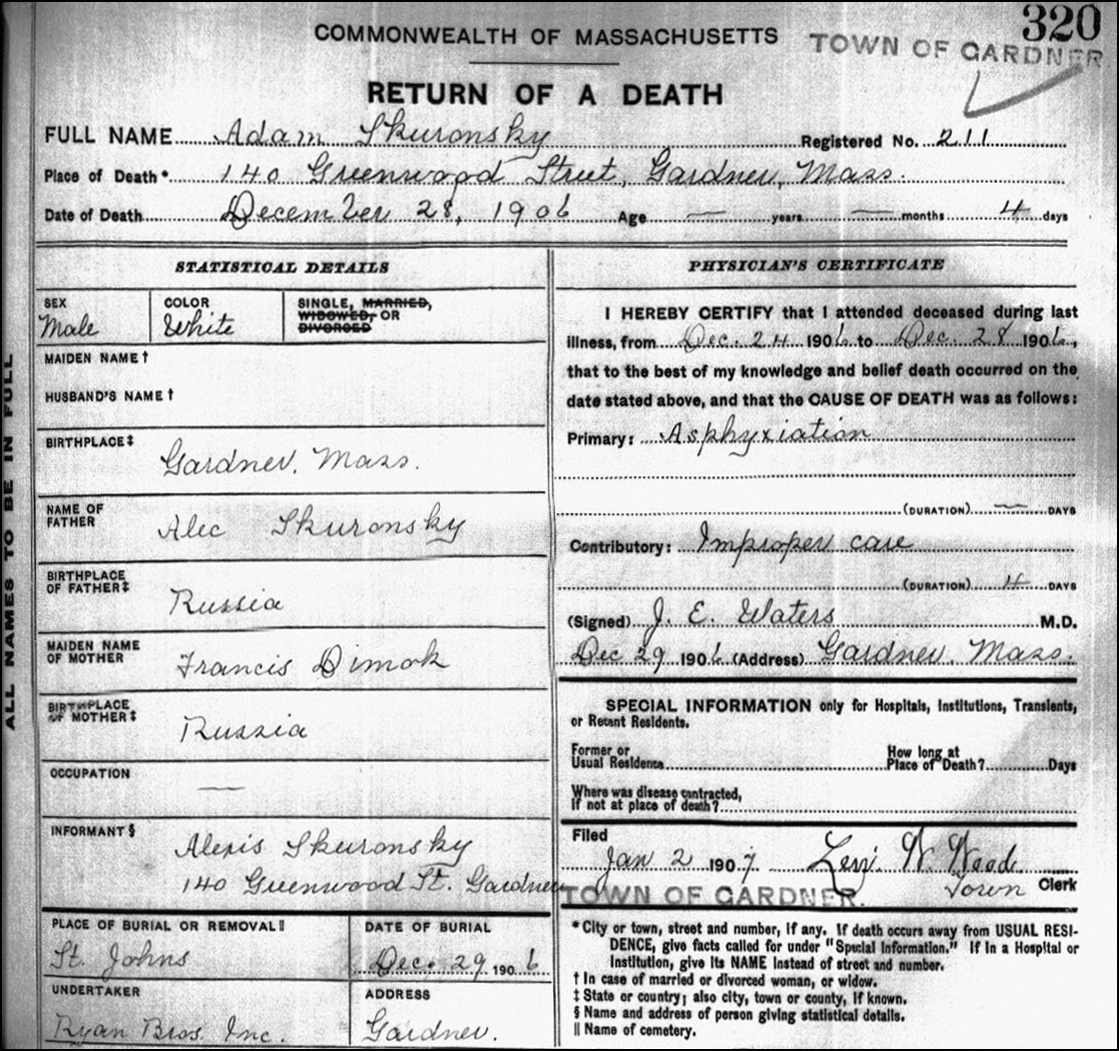 The Death Record for Adam Skowronski
SOURCE: The Commonwealth of Massachusetts. Registry of Vital Records and Statistics. Return of a Death. City of Worcester. 1906. Volume 41. Page 320. Adam Skowronski.
Click on the link for a PDF copy of the Death Record for Adam Skowronski.  The record shows that:
Adam Skuronsky's death was Registered No. 211, on page 320 of volume 41 of the Death Records in Gardner, Massachusetts for 1906

Adam died at 140 Greenwood Street, Gardner, Massachusetts on 28 Dec 1906, age 4 days

Adam was a single, white male, born in Gardner, Massachusetts

His father was Alec Skuronsky, born in Russia

His mother was Francis Dimak, born in Russia

No occupation is given

The informant was Alexis Skuronsky of 140 Greenwood St., Gardner

Alex was buried at St. John's Cemetery on 29 Dec 1906 by Ryan Bros. Inc. of Gardner

The physician, J.E. Waters, M.D., attended the deceased from 24 Dec 1906 to 28 Dec 1906 and stated that the cause of death was asphyxiation, with the contributing factor of improper care for 4 days

The Gardner Town Clerk, Levi W. Wood, filed the Return of a Death on 02 Jan 1907
After the joyous occasion when Adam was born on Christmas Eve, the family must have been devastated when he died four days later.  From the stated cause of death, I suppose that Adam may have suffocated in his crib.