A large number of my relatives are buried in Notre Dame Cemetery in Worcester, Massachusetts.  Among those are Joseph Chmielewski (alias Meleski), my half great uncle.  Joseph is buried with his wife, Catherine Warchol, and his daughter, Rita M. B. Izbicki.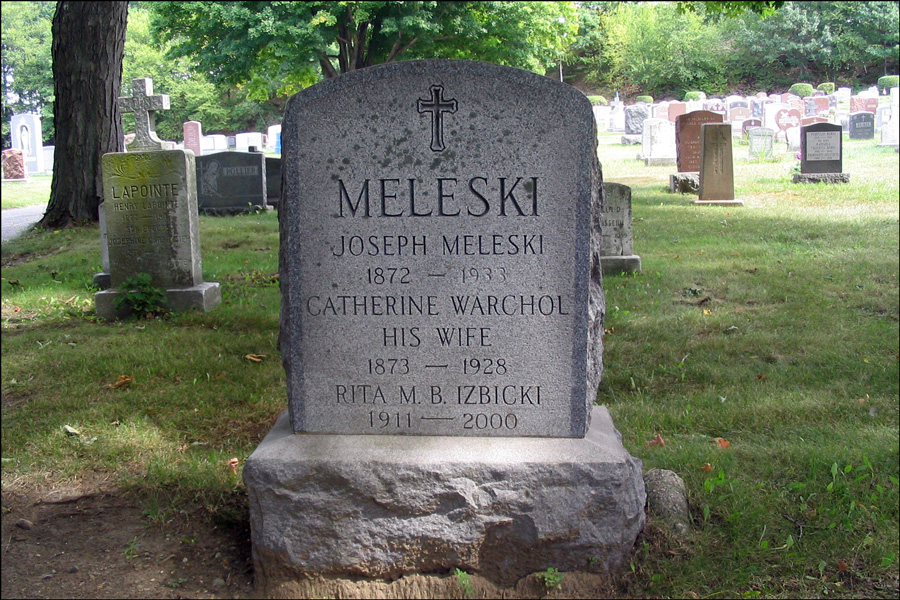 Meleski – Warchol – Izbicki Grave (Front)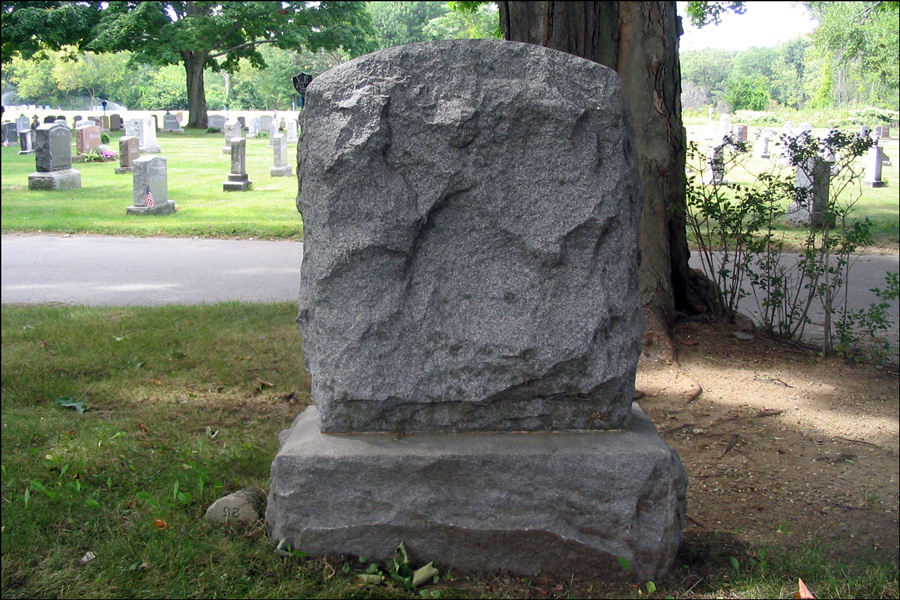 Meleski – Warchol – Izbicki Grave (Back)
SOURCE: Joseph Meleski, Catherine Warchol, Rita M. B. Izbicki grave marker, Section 25A, Notre Dame Cemetery, Worcester (Worcester County), Massachusetts, photographed by Stephen J. Danko, 09 Sep 2005.
The front of the marker reads:
+ 

MELESKI

JOSEPH MELESKI
1872-1933

CATHERINE WARCHOL
HIS WIFE
1873-1928

RITA M. B. IZBICKI
1911-2000
Rita's initials stand for her maiden name, Meleski, and the surname of her first husband, Blackman.  I'm not sure why Rita is buried here with her parents rather than with one of her husbands.  Finding the graves of her two husbands may help explain this unusual arrangement.
I have not seen a marker like this before.  The back of the monument is rough cut and stands out in the cemetery.  This portion of Notre Dame Cemetery is graced by mature trees and is quite peaceful.  I don't have a cemetery record or exact lot and grave location for this grave, but I recall that it is at the northwest corner of Section 25A.  Click on the link for a PDF map of Notre Dame Cemetery.
UPDATE: On 10 August 2009, I obained the cemetery record for Rita M. B. Izbicki. It states:
Owner ID: 00008625
Deceased/Reserved: Izbicki, Rita Blackman, Mrs.
Age: 88
Location: Sec-25 Lot-100 Grv-2RU
Buried: 01/11/2000
Property Owner: Meleski, Joseph
Copyright © 2007-2009 by Stephen J. Danko