My great-grandfather, Jakub Dańko, had several siblings, one of whom was named Marianna.  When compared to the Birth and Baptismal Record for my great-grandfather, that for his sister Marianna is quite simple.  Marianna's birth is recorded as the third baptism on this page: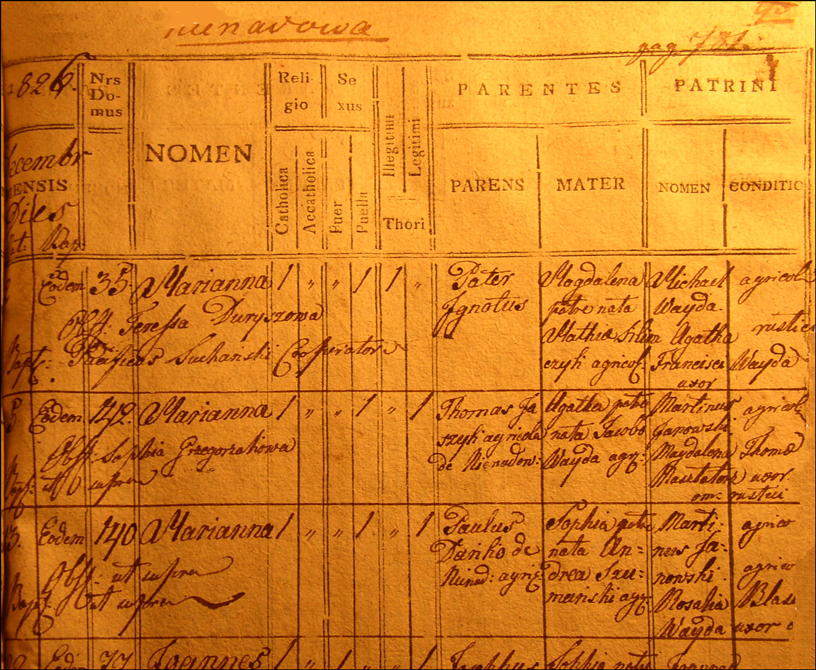 The Birth and Baptismal Record for Marianna Dańko
SOURCE:  Roman Catholic Parish of the Immaculate Heart of the Most Holy Virgin Mary, Dubiecko, Poland. Liber Natorum et Baptisatorum (Book of Birth and Baptism). Nienadowa. 1826. Page 781, Text in Latin, translated by Stephen J. Danko.
Click on the link for a PDF copy of the Birth and Baptismal Record for Marianna Dańko.  Transcribed and translated from the Latin, the record states:
Marianna Dańko was born in Nienadowa on 13 Dec 1826 and baptized on the same day

The baptism is recorded as the third entry on page 781 in the Book of Baptisms for Nienadowa in 1826

Marianna was born in house number 140

Her birth was legitimate and she was a girl born to a Catholic family

Her father was Pawel Dańko, a farmer from Nienadowa

Her mother was Zofia Szumańska, daughter of Andrzej Szumański, farmer

Her Godparents were Marcin Janowski, a farmer, and Rozalia, a farmer and wife of Błażej Wayda

The midwife was Zofia Grzegorzakowa

Marianna was baptized by Pacificus Suchański, Parish Assistant
Two surnames appear to be misspelled: Szumański should probably be Szymański and Wayda should probably be Wajda.
The first name of the priest is Pacificus, a name that I'm not sure how to translate into Polish.  Historically, Pacificus was a disciple of St. Francis of Assisi.  Still, it is an unusual name for a Polish man.