Jakub Dańko is the common ancestor for all my living Dańko relatives (at least those of whom I'm aware), including my relatives in Poland and England.  I've had a copy of his Baptismal Record for a few years, but until now I hadn't translated everything in the record.  Most parish records from Galicia are much simpler than this one.  In general, Galician parish records simply report the required information in tabular form.  This record, however, includes a lot more information than is typical.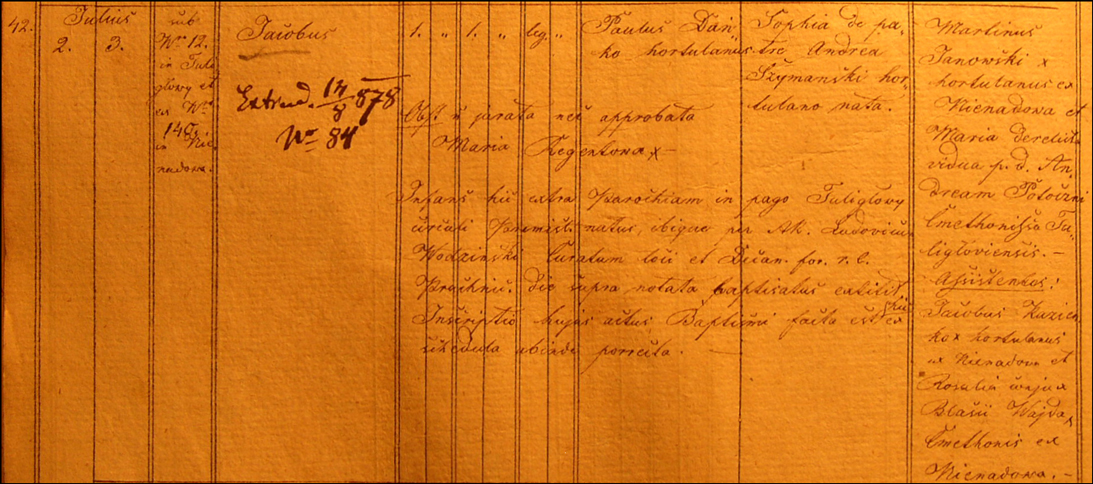 The Baptismal Record for Jakub Dańko
SOURCE:  Roman Catholic Parish of the Immaculate Heart of the Most Holy Virgin Mary, Dubiecko, Poland. Liber Natorum et Baptisatorum (Book of Birth and Baptism). 1843. Page Unknown, Entry Number 42. Text in Latin, translated by Stephen J. Danko.
Click on the link for a PDF copy of the Baptismal Record for Jakub Dańko, including a transcription and translation of the record.  Translated from Latin to English, the record states:
Serial Number: 42

Date of Birth: 02 Jul 1843

Date of Baptism: 03 Jul 1843

House Number: under No. 12. in Tuligłowy and from No. 140. in Nienadowa

Name: Jakub

Religion: Catholic

Sex: Boy

Legitimacy: Legitimate

Father: Pawel Dańko, gardener

Mother: Zofia, born of the father Andrzej Szymański, gardener

Godparents: Marcin Tanowski, gardener from Nienadowa, and Maria, widow left behind after the death of Andrzej Poloczni, farmer from Tuligłowy. Standing by: Jakub Kuzienko, gardener from Nienadowa, and Rozalia, wife of Błażej Wajda, farmer from Nienadowa.

Midwife: Maria Regentowa

This infant was born outside the parish in the village of Tuligłowy in the vicinity of [Panemisto?], and baptism was performed there by AK. Ludwik Wodziński, Curate of the place and Deacon [for.?] the Roman Catholic Parish on the date noted above. Written in this Book of Baptisms, these events were from the schedule presented from there.

[Removed?] 14 Aug 1878 No. 84
While I don't have every word translated here, the meaning is clear.  My great-grandfather, Jakub Dańko, was born and baptized in Tuligłowy, not Nienadowa as I had thought.
The record includes a curious note that I think means "removed 14 Aug 1878 No. 84″.  Does this mean that my grandfather moved to a new house on 14 Aug 1878, or does it mean something else?
Some of the participants are listed with an occupation of hortulanus – gardener.  This means that they farmed a very small plot of land, probably only enough to supply the needs of their own families.  The Godmother, Maria Poloczni, is listed as Cmethonifsa, and Błażej Wajda is listed as Cmethonis, indicating that these people operated full-sized farms.
This is the first Galician Baptismal Record I've seen that listed people "standing by".  Were these two additional witnesses listed because the child was born and baptized outside the parish?
I assume Jakub's baptism is also listed in the parish records in Tuligłowy.  but, why was he born there in the first place?  Was Jakub's mother from the village of Tuligłowy, and did she return there to give birth?  As far as I know, all of Jakub's brothers and sisters were born in Nienadowa, not Tuligłowy, and Jakub was the seventh of eight children.