I previously wrote about the marriage of Bernard Izbicki to my second cousin Anastasia Rita Meleski.  Bernard's brother Leo married Anna L. Baronisky: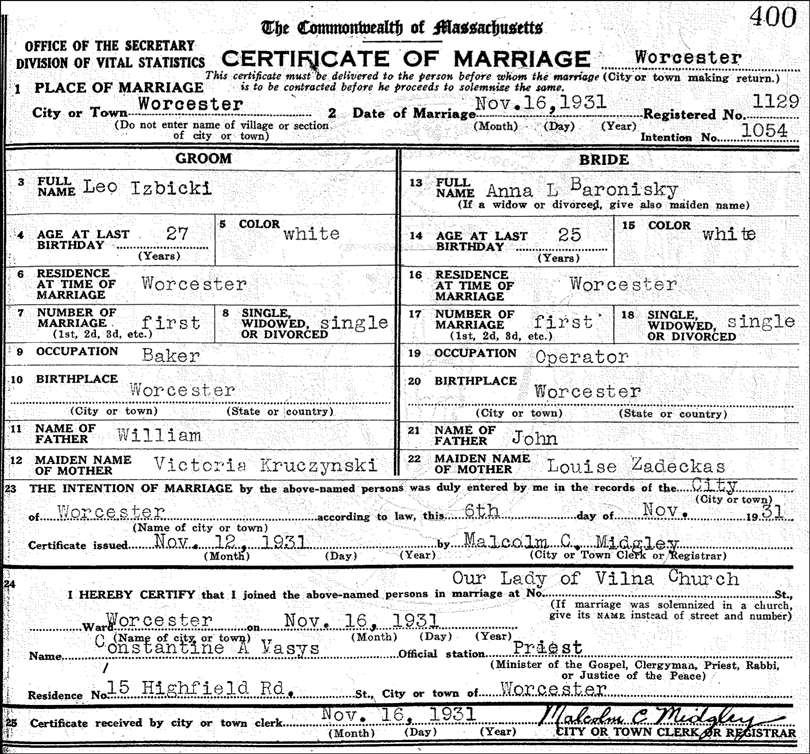 The Marriage Certificate of Leo Izbicki and Anna L. Baronisky
Click on the link for a PDF copy of the Marriage Record for Leo Izbicki and Anna Baronisky – 1931.  The record states that:
Leo Izbicki was a 27 year old white man born and residing in Worcester, Massachusetts

He was a baker, and his parents were William Izbicki and Victoria Kruczynski

Anna L. Baronisky was a 25 year old white woman born and residing in Worcester, Massachusetts

She was an operator, and her parents were John Baronisky and Louise Zadeckas

They were both single, and this was the first marriage for each of them

The intention of marriage was entered at Worcester on 12 Nov 1931, and the certificate was issued on 12 Nov 1931 by Malcolm C. Midgley

The wedding was solemnized on 16 Nov 1931 in Our Lady of Vilna Church in Worcester by Constantine A. Vasys, a priest residing at 15 Highfield Rd., Worcester, Massachusetts
The certificate was received by the city or town clerk, Malcolm C. Midgley on 16 Nov 1931

The Registered No. was 1129 and the Intention No. was 1054

The certificate also notes the page number 400 in the Volume of the Marriage Records for Worcester in 1931
Leo is sometimes listed as Leon in other records, including his Birth Record.  The name Leon was probably his given name, since his father had a brother named Leon.
The bride's surname, Baronisky, is a little odd.  Other records spell this surname in a variety of ways, including Baron.  Since the couple was married in a Lithuanian Church (Our Lady of Vilna) and Leo Izbicki was Polish, one might suspect that Anna L. Baronisky might be Lithuanian.  The spelling of the surname, however, suggests she was Russian.  It's highly unlikely, however, that a Pole and a Russian would marry in a Lithuanian Church!
Without going into a lot more detail here, it turns out that the historical surname of Anna's family was Baranauckas, a fine Lithuanian surname, indeed.  Anna's Lithuanian heritage is also revealed by her mother's maiden name: Zadeckas, another fine Lithuanian surname.
Note that the given name of Leo's father's is listed as William, not Bolesław.  Bolesław Izbicki apparently used the name William after he arrived in the United States.  Some of his records list his name as Bolesław W. Izbicki, to reflect his use of the alias "William".
Copyright © 2007 by Stephen J. Danko